News in the Valley
Spring News Letter Available Now
Click here for the latest AVA Newsletter
NARG Bridge Opening
Saturday's NARG bridge opening was a great success despite the weather. Many dignitaries and residents from the Alouette and Silver valleys were on hand to celebrate an important new asset in our neighborhood.
Special thanks to Cheryl Ashlie who made sure that AVA was invited and involved in the event and to Bruce McCleod and Ingrid Kraus for a great job in organizing the opening – the RCMP horse and rider was a nice touch.
Here are a few pictures courtesy of Anne Dawson.
Log Jams – Nov 21st.
The recent AVA fall survey the North Alouette river found 3 log jams on the river. One, which was just North of the Equestrian Centre was very large and effectively blocked the river. AVA followed the Districts process and notified them of the Jam with including G.P.S. co-ordinates and pictures. We are pleased to report that the district cleared up the big one very quickly.
Regrettably it now looks like they will not be cleaning up the other two downed trees. AVA members met with the district on Thursday, November 18th to discuss emergency preparedness. At the meeting AVA was told that the district does not have funding to clear up jams and downed trees on private lands, unless they are creating an emergency safety situation. They are now maintaining that this is the responsibility of the property owner. This is contrary to our expectations and we need to find a solution to this before it becomes a problem.
| | |
| --- | --- |
| Not Cleared | |
Springfest – Signs campaign spreads
Signs Campaign spreads to Silver Valley and beyond – way beyond.
AVA was pleased to help SVNA with sign painting at Springfest this year. The signs, cutout by volunteers from the Fraser Regional Correctional Centre, found many willing painters at Maple Ridge park on Saturday. The new signs are destined for the Silver Valley. You can expect to see them on Fern Crescent and other busy streets soon. One Silver Valley resident bought a sign and is taking it to her new home in Australia.
Our little campaign is going international!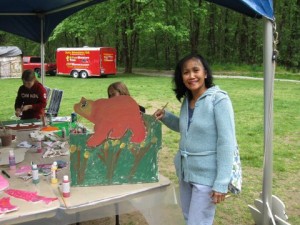 New Arrivals to the Valley
This little bear sleeps all day at Elizabeth's place while waiting for it's Mom to come back after a hard days foraging for food.
There have been several more cubs spotted in the area.Many thanks to Elizabeth L. (132 ave.) for sending in these great pics.

If anyone else has any interesting wildlife pictures please send to ava@stargate.ca.
Townhall
The Alouette Valley Association (AVA) and the Silver Valley Neighbourhood Association (SVNA) will jointly hold a town hall style meeting on May 10th at 7:30 at the Maple Ridge Library. There will be a 1 hour Power Point presentation of our Recreational Roadway proposal, followed by a question and answer session.
The purpose of the meeting is to share our vision with Maple Ridge as a whole and to seek further input from all stakeholders. Many of you are already familiar with the recreational potential of the Alouette Valley, and probably cycle, walk, run or ride in the area.
AVA and SVNA believe that the RR proposal will bring significant economic, recreational, environmental and health benefits to Maple Ridge.
The proposal enjoys huge support from residents and business in the Alouette and Silver Valley, as well as the wider Maple Ridge community.
We invite everyone to attend and value greatly all input. We look forward to seeing you.
Hydrology Study
The long awaited hydrology study is finally under way. Workers have been seen walking the North Alouette over the past few days.
For details of the study please refer to the new Hydrology study tab on this site. We will update with current information as it becomes available.
J&M Horse Rescue Needs Help
The Maple Ridge News is reporting that J&M Acres is down to its last few bales of hay and has a negative balance in its bank account after paying a vet bill for a filly who has since passed away.
MR News March 11.
Two More Stolen!
Christmas Sign Grinch
Someone has stolen 3 of our signs. If any one sees them please let us know. Everybody has worked very hard to make the signs and it is very sad that someone would be so selfish.
MR News – 132nd Avenue road signs a hot item Jan-5th 2010
http://www.bclocalnews.com/tri_city_maple_ridge/mapleridgenews/breaking_news/80747087.html
Front Page – the Maple Ridge News!
The Maple Ridge News gave us a very nice write-up in last Wednesdays edition.
If you missed it you can view online here MR News Nov-17th 09
South Alouette – Nov 19th
Starting at 15:00 (3:00pm) today, BC Hydro will be conducting a controlled flow release of water from the dam in to the South Alouette River of 45 cubic metres per second. This flow is well within banks limits and although high water will result, out of bank flows are not anticipated. The controlled flow release is expected to last for five days
No Current Warnings – Nov 17 7.00AM
RAINFALL WARNING ENDED For Vancouver BY ENVIRONMENT CANADA
BULLETIN ISSUED AT: 4:23 AM PST TUESDAY 17 NOVEMBER 2009
WIND WARNING FOR METRO VANCOUVER ENDED
District Helps Clean Up the River
The latest high water has brought down a lot of trees and caused some log jam. In particular a bad one by the Equestrian Centre, The District has been quick to respond and most of the log jams have been cleared. Please report any logjams that have been missed.
Reward for Missing HOBO
Ayisha of Environment Canada contacted us yesterday to ask for our help in finding their missing temperature logger which they call HOBO. They are offering a $40.00 reward for its safe return. HOBO was attached to a piece of rebar under the 132nd Ave bridge at Edge Street in the North Alouette River.
Picture and Details Here
Unexpected Flood Scare – Oct 31 2009 –
Trick or Treat

!

The North Alouette came up really fast last night and breached it's banks at 224 st at around 11.30 PM.
The 224 gauge read 110 inches at it's peak. Fortunately it stopped raining at around 11.00 PM otherwise there may have been a big problems. Please report any issues to ava@stargate.ca or leave a comment below.
Also, the River brought down a number of new logs. If you see any jams please report these as well.

Sad to see one of our neighbors having so much trouble. She has poured her heart and soul into her sanctuary.
Another Bear Killed – Oct 19th 2009
We have had reports that a juvenile bear had to be put down by conservation offices. Apparently it was hit by a car and was too injured to save. There is a lot of bear activity at this time of year and they are frequently crossing the roads. Slow down people!
Salmon Run – Oct 16th 2009
Based on observation it looks like a pretty good salmon run this year. The chum that had been waiting for rain are finally coming up the North and for the first time we are seeing a fairly large number of pinks.